Structural Steel Detailing Services in Maine| Steel Detailing Services Maine | Steel Detailing Services | Structural Steel Detailing in Maine
Global Detailing Consultant is a leading structural steel detailing services provider in Maine. With years of experience in the industry, we provide high-quality steel detailing services for all types of projects. Our team of experienced professionals use the latest software and tools to ensure accuracy and precision in our work. We specialize in providing structural steel detailing services for residential, commercial, industrial, and institutional projects.
We are committed to providing superior steel detailing services for all our clients. Our employees take pride in their work and stand behind their craftsmanship. Contact us today to learn more about our steel detailing services and see the difference our team can make for your project.
We offer a wide range of services such as shop drawings, fabrication drawings, connection design calculations, and more. Our goal is to provide our clients with superior quality service at an affordable price. With our expertise and experience in the industry, we have become one of the most trusted Steel Detailing Services Providers in Maine.  We are a company that has been in the industry for over 30 years. We have an A+ rating with the BBB and we are accredited by the American Institute of Steel Construction.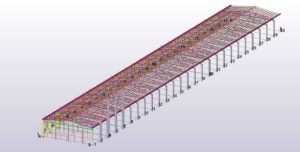 Steel Detailing Services supply highly accurate drawings for steel fabricators and steel erectors. The management & details of the steel must meet industry guidelines and specifications to ensure proper construction. We always ensure that the standards and codes are followed to maintain ethical practices. Our team is here to provide you with professional advice and create a report for your project. If there are any necessary changes, we can make it happen quickly with minimal turnaround time.  Our services include: Structural steel detailing such as Erection Drawings with assembly and member numbering, base plate details, anchor bolt drawings, steel member detail drawings, stair and handrail details, connection details, framing plans, bolt lists and sequencing reports. For a Free Quote, please visit the website or contact us.
Global Detailing Consultant has established itself as a leader in providing structural steel detailing services in Maine, USA. This service requires an extremely high level of accuracy and precision which the company is proud to deliver. UNITED STATES International Detailer has a team of detailers who have been providing services for international clients across the United States. The company is proud to represent the top-tier detailing products and services in use today.
International Detailer is dedicated to provide the highest level of detail achievable for all surfaces. They work with raw steel, stainless steel, aluminum, copper and other metal materials. The company also utilizes their expertise in structural detailing to give their customers unique solutions and unparalleled outcomes.
Global Detailing Consultant is a renowned firm that specializes in Structural Steel Detailing. They are well-known for their superior quality services and global reach. Our organization is equipped to serve customers in the national and international markets. Our team of professionals possess the experience and skill set necessary to tackle any complexity arising from a project.
Metal Stud Wall                                Rebar Detailing
Steel Frame Structure Detail        Concrete Slab On Metal Deck Detail
Steel Roof Structure Detail           Steel Staircase Section
Steel Frame Detail                            Steel Stair Detailing
Portal Frame Connections            Steel Staircase Railing Design
Aluminium Façade Detail              Metal Stair Detail
Miscellaneous Steel Detailing      Revit Structural Detailing
Steel Balcony Detail                         Steel Structure Roof Detail
Steel Roof Detail Drawing             Steel Beam Detail
Metal Façade Detail                        Staircase Steel Drawing
Metal Handrail Detail                      Metal Staircase Detail Drawing
Round Steel Column Detail           Steel Stud Box Beam
Steel Stringer Staircase Detail     Metal Stud Framing Details
Industrial steel detailing                Structural steel detailing
Miscellaneous steel detailing       Shop drawing production
BIM modelling                                 Fabrication support
Structural Steel Detailing               Structural 3D Modelling
Fabrication Drawings                      Steel Estimation
Erection Connection Drawing
Specialization services we provide in Steel Modelling Services?
Quality Take-off Services              Advanced Bill of Materials
Steel Joint and Detailing                Drawing Index
Steel Estimation                                Fittings Drawings
Connection Sketches
Our Portfolio
Following are the Construction Projects We Have Catered So Far:
Commercial – Industrial – Highways
Civil – Healthcare – Educational
Multi-Use Residential – Institutional – Retail
Restaurants – Offices – Cogeneration Plants
Wastewater Treatment Plants – Warehouses
Procedure we followed by Global Detailing Consultant for Steel Detailing?
We follow the configuration which helps us get the comprehensive knowledge of your idea, scope and time estimation for your requirements.
Requirement Evaluation               Detailed Analysis of Structural Steel
Design Review                                  Detailing Review
Expert Opinion                                Discussion on Recommendations
Changes Incorporated                   Final Submission
Our Main Areas of Maine for Structural Detailing Services:
Global Detailing Consultant manages to serve a diverse range of clients throughout the different counties of Maine that are as follows:
Androscoggin County     Aroostook County
Cumberland County        Franklin County
Hancock County               Kennebec County
Knox County                      Lincoln County
Oxford County                  Penobscot County
Piscataquis County          Sagadahoc County
Somerset County             Waldo County
Washington County        York County
Share your project Detailing on info@global-detailing.com  for Structural Steel Detailing | Steel Detailing | Steel Structural Detailing | Steel Detailing and Shop Drawings