MEP Design and Drafting Services - MEP Shop Drawings Services
MEP Design Services | MEP Drafting |  MEP CAD Drawings |  MEP Coordination Drawings
Global Detailing Consultant offers excellent, reliable, and affordable MEP Design and MEP Drafting Services, MEP Shop Drawings, MEP Services, MEP Modeling Services, HVAC Design and HVAC Duct Design, HVAC Piping Design, HVAC Layout Design, HVAC Drafting Services, HVAC Drawings, Plumbing Design and Plumbing Drawings Services for all clients across the USA, UK , Canada, Australia, Middle East and Europe. Numerous projects that require prefabricated components are in need of shop drawings that focus on the mechanical, electrical, and plumbing aspects.
With an enthusiastic team of experts, it is possible to create MEP shop drawings that cater to the requirements and specifications of individual clients. With appropriate knowledge, ample training, and adequate experience, our professionals are capable of coming up with solutions to suit your project.
Why is Global Detailing Consultant ideal partner for an engineering project? As a steel structural and detailing consultant, we have completed numerous projects with success. Our timely delivery of excellent nature, expertise in the relevant field, and focus on the details make us one of the best choices for any project in the industry.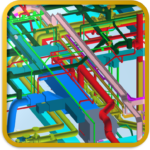 When you require detailed MEP Shop Drawings for your project, reach out to us. We will be able to complete the task on time, make it a cost-effective choice, and ensure the quality of the work.
MEP Services
Mechanical Drafting Service
Cooling and Heating Load Calculations
Ventilation Calculations
Equipment Selection
Diffuser and Ducting Layout
Exhaust Systems Layout
Centralized Air Conditioning Systems
Kitchen Ventilation Systems
Equipment Schedules
Airside and Waterside risers
HVAC Drawings
Electrical Drawings
Fire and Sprinkler Drawings
Public Health/Hydraulic Design Drawings
Mechanical Pipework Drawings
Mechanical Schematic Drawings
Electrical Schematic Drawings
Tender/Bid MEP Drawings
Contract MEP Drawings
Coordinated Drawings
Construction MEP Drawings
Installation Drawings
Penetration/Builderswork MEP Drawings
Manufacturing MEP Drawings
Spool MEP Drawings
MEP Shop Drawings
Prefabrication MEP Drawings
Module MEP Drawings
As-fitted Drawings/As-installed MEP Drawings
MEP Electrical Design and Drafting
Building Power Systems
Communication and Data Systems
Interior and Exterior Lightning and Controls
Photometric Calculations
Short Circuit Calculations
Single line diagrams
Electrical panel layout and distribution panel
Plumbing Design and Drafting Service
Domestic Hot and Cold Water Distribution
Sanitary and Storm Drainage
Venting
Laboratory Waste Collection and Treatment
Laboratory Gas distribution
Landscape/irrigation water supply systems
Riser Diagrams
Photometric Calculations
MEP Plumbing and Firefighting Service
Piping Design and Drafting service
Design Calculations
Plumbing & Firefighting As-built Drawings
AutoCAD
Revit
SolidWorks
Inventor
Pro/Eneingeer
Microstation
Global Detailing Consultant Experts in following Industries:
Residential & Commercial Buildings
Schools
Industrial & Institutional Buildings
Healthcare Units like hospitals
Pharma Laboratories
Various types of Government Projects
Telecommunications
Our Clients:
Multi-disciplinary design consultants
Mechanical and electrical design engineers
Sustainability MEP consultants
Specialist design consultants (fire, acoustic, sustainability, etc.)
M&E contractors and MEP trades
MEP-focused module manufacturers
DFMA manufacturers requiring MEP components
Facilities management firms
The International Standards Global Detailing Consultant Proficient On.
IECC – International Energy Conservation Code
ASHRAE standards – The American Society of Heating, Refrigerating and Air-Conditioning Engineers standards
NFPA codes – National Fire Protection Association codes
AEDG – Advanced Energy Design Guide
AS 1668.2 – Australian Standards for The use of mechanical ventilation and air conditioning in buildings
AS1851-2005 – Australian Standards for Maintenance of fire protection systems and equipment
AS/NZS 3666 – Joint Australian New Zealand Standard
NBN standards – S21-200, S21-201, S21-202, S21-203, N S21-207
Let us help you complete your project with ease and efficiency. Connect with us via email or call us. You can also contact us at info@global-detailing.com . Send in your queries, suggestions, opinions, and let us get back to you.
Latest MEP Design and Drafting Projects By Global Detailing Consultant