Mechanical Design Services - Mechanical Drafting Services - Outsource Mechanical Design and Drafting Services
We, at Global Detailing Consultant, offer impeccable Mechanical Design and Drafting services for diverse engineering projects across the globe. With our services, it is possible to complete every challenge in this niche.
Our team of dedicated professionals comprises knowledgeable, trained, and experienced individuals capable of handling projects that cater to the diverse sectors of the industry. Understanding the details, identifying key challenges, coming up with the right solutions, and carrying out the task – these pointers help in successful completion of the project.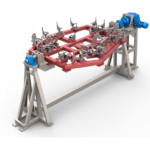 Global Detailing Consultant is reputed for its high-quality, on-time, and affordable mechanical design and drafting solutions that helps clients in the manufacturing, power, civil, and other engineering sectors to work with ease and efficiency.
With our services, it is possible to reach the success you aim for. On-time completion of the task without hampering the quality is what makes us the best choice for your engineering project. Moreover, with the affordable charges for our services, it is possible to seek a solution even within the scope of a strict budget.
Our Mechanical Design Service Offerings:
3D CAD Product Design of All Products / Parts / Components
Providing Engineering Design Services using 3D CAD Software
Providing Conceptual Designs, Proposals, Proof of Concept
Provide Advanced 3D CAD Design for Manufacturing, Mechanical Parts & Assembly Design (DFM/DFA)
Offering Complex Modeling and creation of 3D Prototypes
Sheet Metal Product Design, Drafting & 3D Modeling
Legacy Conversions – 2D Drawings and Modeling into 3D formats
Pressure Vessel Design
Machine Design
Jigs and Fixtures Design
Assembly Line Design
Cooling System Design
Pump
Compressors and Turbine design
Vacuum system design
Flare Stack Design and Drafting
Vent Stack Design & Detailing
Design of Distillation Column as per relevant code,
Design of Pressure Vessels as per ASME Section-VIII, BS and IS
Heat Exchanger as per TEMA, Storage tanks Equipment's as per ASME and API 650
Preparation of Equipment drawing for fabrication
Finite Element Analysis (FEA)
Finite Element Modeling
Structural Analysis
Dynamic Analysis
Modal Analysis
Linear and non linear static analysis
Steady state thermal analysis
Transient Thermal analysis
Mold flow analysis
CFD
Our Mechanical Drafting Services includes:
Mechanical Drafting Services
Mechanical 2D Drafting Services
Mechanical 3D Modeling Services
Mechanical Engineering
Process & Detail Engineering Services
Piping Engineering
Pipe lines Designing & Tanks Designing
Piping Designing & Drafting
Plant Designing
Product modelling
Assembly modelling
Solid modelling
Machine modelling
Workshop Drawings
Site Layout Drawings
P&ID Drawings
Electrical Drawings
Concept Drawings
Council Planning
Deconstruction Drawings
Our Specialization
Heat Exchanger, Piping Plant Modelling, Skid, Vessel, Fencing Flare Boom, Pipe Support, Part Modelling, Tank With Spiral Stair, Vertical Oil Tank, Horizonal Diesel Tank, Square Tank
Industries served:
Global Detailing Consultant have served several kinds of industries across the sectors of Agriculture, Petrochemicals, Oil and gas, Cement, Chemical Plants and Chemical Industries, Offshore platforms, Fertilizers, Food and Beverages and Marine vessels just to name a few.
International Standards:
Global Detailing Consultant following the list of standards that we are conversant with.
ASME (American Society of Mechanical Engineers)
ASCE (American Society of Civil Engineers)
ASME ST (American Society of Mechanical Engineers – Structural Engineering)
ASTM (American Society for Testing and Materials)
SME (Society of Manufacturing Engineers)
DNV (Det Norske Veritas)
API (American Petrol Institute), EN Standards (Euro Norms)
ANSI (American National Standard Institute)
PED (European Pressure Equipment Directive)
Get in touch with us to learn more about how our Mechanical Design and Drafting Services can be of help for your project. Send in your suggestions, opinions, and queries. Call or email us on info@global-detailing.com to connect with Global Detailing Consultant.
Latest Mechanical Design and Drafting Samples