Miscellaneous Steel Detailing Company | Structural Miscellaneous Steel Detailing Company| Miscellaneous Steel Detailing Services in USA
Miscellaneous Steel Detailing Services | Structural Miscellaneous Steel Detailing | Miscellaneous Steel Detailing Services
Global Detailing Consultant was established in the year 2007 dedicated to providing an exceptional reliable structural steel detailing services and miscellaneous steel detailing services for steel detailers, steel fabricator, steel erectors, steel industry and construction firms. Global Detailing Consultant created a one stop miscellaneous steel detailing solutions for stair designs, stair cases designs, hand rails, guardrails, wallrails etc. furthermore, our steel detailers experts are also aware of the stairs with different tread pans like concrete and granting & chequered plate with distinct landing supporting systems such as Tube Struts, Shelf angle and Hanger Rods. The reason for 2D Drafting India growing was due to client's requirement. Click Here or send us email: info@global-detailing.com to your miscellaneous steel detailing service and samples requirement.
Structural and Miscellaneous Steel Detailing Services at Global Detailing Consultant Group, we offer comprehensive miscellaneous steel detailing services in the USA. Our experienced professionals use the latest technology and software to create detailed and accurate drawings that are customized to meet the specific needs of each project. We specialize in the design and detailing of structural steel components, including stairs, ladders, handrails, platforms, and other miscellaneous steel structures. Our team is committed to delivering exceptional results that meet or exceed our clients' expectations.
As a leading miscellaneous steel detailing company, we understand the importance of accuracy, precision, and attention to detail. Our team works closely with our clients to ensure that every component is properly integrated into the design, and that every detail is accounted for. We also provide detailed material lists, fabrication details, and assembly drawings to ensure that every component is precisely fabricated and installed.
At Global Detailing Consultant, we are committed to providing our clients with high-quality miscellaneous steel detailing services that are delivered on time and within budget. We work collaboratively with our clients to understand their specific needs and provide tailored solutions that meet their unique requirements.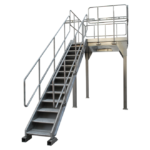 We are familiar with the miscellaneous steel detailing codes and industry requirements and we consult closely with worldwide clients to ensure that we adhere to their steel detailing standards. Our structural steel detailer's versatile experience allows us to understand in depth, interpret correctly with the architects and engineers concepts and develop detail as per your requirements. Given a set of contract drawings, we will provide you with a detailed set of checked erection and shop drawings, everything you need to complete your project on time and under budget.
Miscellaneous Steel Detailing Services as per your standards
Stair Case detailing
Hand Rail detailing
Fence detailing
Ornamental metal detailing
Windows detailing
Door detailing
Miscellaneous Structures Detailing and Designing Services
Roof Frames
Roof Ladders
Stairs
Handrails
Dock Stairs
Girts
Elevator Divider Frames
Platforms
Industrial access stairs with railing
Safety gates
Foundation Bolt Arrangement Plan
Advanced Bill of Material (ABM)
Other Light Structural Steel
Our Miscellaneous Steel Detailing Process
A quote request is received from your company
Your information is reviewed by our estimator and a quote is generated
A contract is signed by your company and 2D Drafting India; after receipt our detailers will generate erection approval drawings. You may also request shop drawings to be created at this time
Approval drawings are sent to our checker for review
Checked drawings are coordinated; comments and concerns are fixed and verified
Approval drawings are issued to your company. Drawings will be sent to you in both DWG and PDF format for your convenience (Unless otherwise requested)
The approval drawings are returned to 2D Drafting India with markup. All comments will be incorporated into the drawings
Shop drawings are generated from the newly coordinated erection drawings
All drawings are again sent to our checker for review
Checked drawings are re-coordinated to fix all issues noted by the checker
Final erection drawings and shop drawings are then re-issued to your company
Since 2007, Global Detailing Consultant providing professional steel detailing services, steel construction detail, stair detailing services, rebar detailing and handrail detailing services to the engineers and architects.
Contact us to get more details about our low price structural steel stair design and detailing services and sample.