Steel Structural Detailing Services
Structural Steel Detailing Services | Steel Detailing Service Company | Connection Design Service Company
Accurate structural designs, Steel Buildings, Steel Structure Detailing, Miscellaneous Steel Detailing are essential to the protection and long-standing structural reliability of complicated and simple designs in a similar way. We at Global Detailing Consultant trust on the work of a structural engineer every time we enter a building, cross a bridge, enjoy a pleasure park ride, or run water through a powerhouse. We trust that the engineer had the experience and knowledge to provide practical, safe plans.
Global Detailing Consultant have complete engineering support for the design, analysis, inspection, and evaluation of structural systems. We have well experienced and expert staff in the design of structural systems including systems which utilize structural and cold formed steel, aluminium, concrete, masonry, and timber. Global Detailing Consultant support all phases of the structural engineering design process, right from design and modeling to analysis of pre-existing designs and construction documentation.
Global Detailing Consultant Structural engineers are experts in building structures and know how to keep buildings stable and straight without excessive use of materials. They can make use of their expertise to prevent expensive and dangerous mistakes. They will also use engineering formulas connecting to material properties and physics to design structures which will tolerate all the services of that particular structure.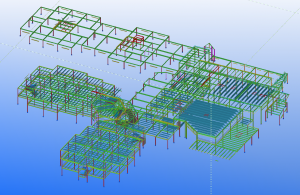 Structural drawings, Structural Detailing Services , Steel Detailing , Connection Design is also an important part of structural engineering and designing services as is provides each and every small to large detail of any particular construction before starting of real construction. Structural engineering designing and drawings services are executed by structural draftsmen. Expert structural draftsmen at Global Detailing Consultant transfer the engineer's sketches into CAD drawings, and in addition check that the designs conform to the building codes and relevant statutes as it will help you in visualization of any construction so that you can make any changes without affecting real construction.
International codes and standards we follow
AISC – American Institute of Steel Construction
OSHA – Occupational Safety and Health Administration
AWS – American Welding Society
CISC – Canadian Institute of Steel Construction
The Southern African Institute of Steel Construction
BS – British Standard
EC – Eurocode
AS – Australian Standards
NZS – New Zealand Standards
IBS – Brazilian Steel Institute
IS – Indian Standards
Structural steel detailing is an important aspect for any structural project. Without using it builders and contractors can't imagine perfect structure. It is used widely in all type of building construction like low rise buildings and high-rise building. This technique gives perfect calculation of each and every steel member. World is moving very fast so it is now become a valuable resource for Outsourcing. Outsourcing is a profitable term in the global world. You will find benefits of outsourcing steel detailing and steel drawings described as below.
For outsourcing structural Steel detailing, Structural Detailing Services, Steel Detailing, Connection Design Global Detailing Consultant is the best choice. You just need to send your requirements and need to do communication till your project's completion. In the globalization it doesn't matter that from which country you are.
Each and every country has its own international standards and codes but at the present time structural firms are capable to work according to your requirements and standards. Outsourcing steel detailing and structural steel drawings to Global Detailing Consultant is also a best option that meets your budget needs. You just need to send your handmade sketches or drawings. Steel drawings mainly include fabrication drawings, erection drawings and shop drawings. So by outsourcing to Global Detailing Consultant you can save maximum cost and can get maximum return on your investment.
Global Detailing Consultant offers vast infrastructure facilities at low cost. But it is never easy to choose the better one. The right choices of service provider require much attention and investigation. If you send your requirements to any resource then before making any deal you can ask them for the previous records like previous completed projects detail, about detailer's capabilities and experience etc.
USA, North America, South America, East America, West America, Canada, UK, EU, Gulf, Asia, Africa, Australia and New Zealand.
Many of the service providers offer full range steel detailing services that include anchor setting plans, steel drawings, column connection, beam connection, bill of material and steel member details. If you want to get individual services then many of the firms are offering customized services. So due to these benefits' importance of outsourcing structural steel detailing and steel drawings has increased vastly.